These days, people prioritize convenience, independence, and accessibility in every area of their lives. Therefore, regardless of the size and industry, businesses are continuously pursuing to meet these three expectations. Apart from the endless improvement of the products to fit the needs of a customer, companies are exerting every effort to provide first-class services to their audience – be it sales, marketing, or customer support. And while all the mentioned-above aspects are important for the growth of a business, recent researches show that customer service is the most crucial factor in building loyalty to a brand. In other words, in order to retain more clients and generate more revenue, the company has to provide high-quality and timely support for a customer if needed.
The obvious question that may arise at this point is how to integrate convenience, independence, and accessibility into the customer support of your company?
Here's where customer portals come into play. In today's world of digitalized customers, the portals have become more of a must-have functionality than a nice-to-have option. Online customer portals provide a perfect combination of tools for solving the issues by enabling 24/7 access to the needed information (accessibility and independence), and empowering customers to create cases for their problems and monitor their progress (convenience). They give your clients a strong sense of control and involvement, at the same time positively impacting the work of your support department. Let's take a closer look at the benefits of customer portals from the point of view of a regular business.
Why does my business need a customer portal?
Customer portals reduce the workload of the employees
By creating an extensive knowledge base of articles in your customer portal, your company is providing customers with a chance to solve simple issues on their own. It frees up the time your support representatives would spend on answering frequently asked questions or handling common requests, and allows them to concentrate their efforts on dealing with complex and intricate problems. What's even more, the portals streamline the management of cases by automatically distributing them equally among the support team members and enabling the team to filter issues according to the level of importance or difficulty.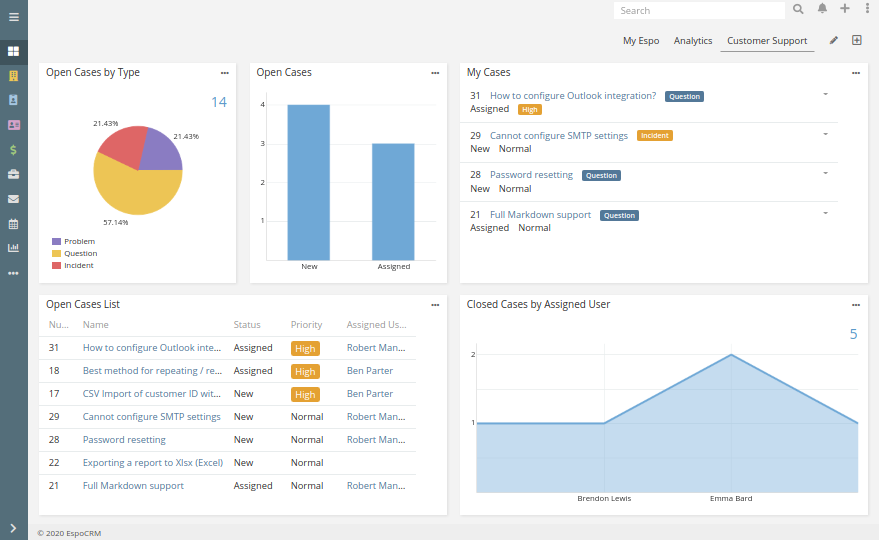 Customer portals allow viewing your business holistically
Customer portals can provide you with revealing insights about your products, services and, of course, customers. Having in mind that the main purpose of every customer portal is solving cases, you can find out a lot of useful data about the pain points of your products or services just by attentively analyzing the content of cases. This valuable information helps not only in defining the most repetitive issues, or saving time on troubleshooting problems, but also allows you to optimize your customer support, improve your goods, and better meet clients' expectations.
Customer portals help to logically organize information
Online customer portals accumulate all data needed to solve the problem in a single, convenient, and accessible area. The portals display information in a comprehensible and user-friendly way for customers (articles, tips, recommendations, frequent questions, how-to video tutorials, etc.), so they don't have to search throughout your website in order to find an important piece of data. At the same time, customer portals organize all case-related information under one record in the system. It means that instead of looking for information scattered among various sources, your employees obtain it in one perfectly arranged location. As a result, the support team is more productive during the workday and spends more time solving the issues rather than finding out what happened.
To put it simply, the way to a customer's heart is through customer service. Customer portals help your business to support and serve your clients more effectively. Allowing your customers to reach out to you in a convenient way, the portals increase the efficiency of your employees and reduce the number of incoming cases by providing your audience with the option to find the solution on their own. If you're interested in keeping up with the pace of innovation and empowering your support team, it's the best time to implement EspoCRM and configure your own customer portal!