Latest Release EspoCRM 8.0.2 (September 18, 2023)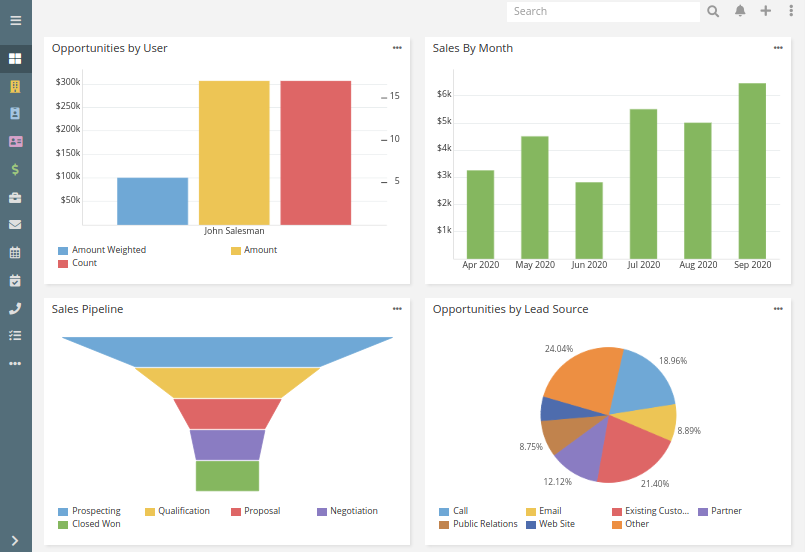 EspoCRM is a free open-source web application that allows you to see, enter and analyze your company's relationships with customers and partners alike. Lightning fast and easily customizable, this web-based CRM solution will provide you with the tools to understand your consumers' behavior and cater your products and services specifically to their needs.
Change the Way You Provide Customer Experience
Sophisticated functionality makes it easy to organize your business data, plan work activities and close more deals. The platform allows you to review and evaluate customers, companies, projects, and opportunities. By analyzing the interactions between your company and your clients, EspoCRM provides insights into your customers' buying habits and offers you solutions to improve your entire range of products and services. Build lasting relationships, boost your revenue and remain on top of your game with the free EspoCRM!
Compare Cloud vs On-premise deployment options and choose the one that best suits your business needs.
EspoCRM is licensed under the GNU General Public License Version 3 (GPLv3).
Manual installation
Read information about the installation process.
Installation by the script
The script automatically installs EspoCRM as a Docker image with NGINX server and MySQL database.
wget https://github.com/espocrm/espocrm-installer/releases/latest/download/install.sh
bash install.sh
Read more
Install with Docker
The Docker Image for EspoCRM automates and simplifies the process of EspoCRM installation. It provides an easy way to set up EspoCRM and all the services needed for its proper work. In just a few steps, you'll have a fully operating platform ready to work for your business.
docker pull espocrm/espocrm
Requirements
Web server Nginx, Apache 2.2.1 or IIS 5.0.0 and later;
PHP 8.0 and later;
MySQL 5.7 or MariaDB 10.1 and later.
For more information follow the link Server Configuration for EspoCRM.
Upgrades
Upgrade packages are available here.
Release Notes
See release notes on GitHub.