When your business starts to expand and grow, the need for software that will help run all its aspects effectively also expands. CRM platforms are one of the tools that allow companies to use their resources to the fullest and increase revenue. However, with the great variety of both free and paid-for CRMs available on the market, the process of choosing a perfect match for your business can take a lot of time, effort and multiple attempts. Therefore, companies that are unsure about their choice, startups or small businesses with limited budgets prefer to try free CRM systems or free trials of the paid CRM versions. By doing so, companies get the chance to become familiar with the features of the software and can more knowledgeable choose the one that best fits their needs – and it's all free, without the pressure of investing a single penny in the software.
Although, EspoCRM is basically a free, open-source CRM solution, its users are offered paid add-ons that extend its functionality. Any software company (and CRM vendors are not the exception) needs to somehow fund the development and maintenance of its software. Unfortunately but not surprisingly, good software programmers value their time and don't work for free. (In any case, we asked them, they don't agree).
Nevertheless, we'd like to devote this article to debunking some of the myths and misconceptions about the limited abilities and "featurelessness" of free CRM solutions. We'd like to focus on the positive things from the user's point of view – on the free features that are included in the basic free version of EspoCRM. So, let's take a closer look at what EspoCRM brings to the table free of charge.
Free Entity Manager
Entity Manager provides the ability to fully customize your CRM instance to the specifics of your company. You can add, edit, disable and delete entities, fields and relationships to make the software easy-to-use and navigate for your employees. In fact, Entity Manager offers almost unlimited customization options for the businesses that want a CRM system to store any kind of data connected to their business operations.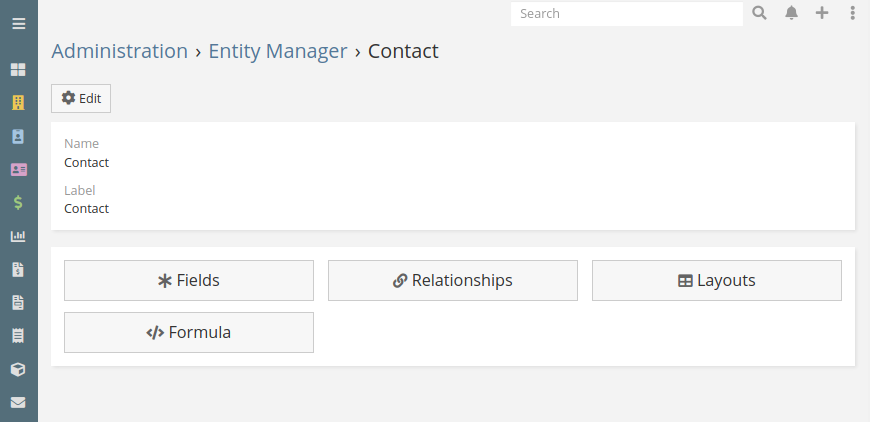 Free Calendar Planner
The free Calendar tool is an all-inclusive time management solution that enables your employees to organize their workdays wisely and stay productive. The calendar supports 4-four different modes (Day, Week, Month, and Timeline), allows keeping track of calls, meetings, tasks and custom events, and provides the ability to create shared calendar views so the whole team can see an overview of its upcoming activities.
Free Contact, Lead and Account Management
EspoCRM lets you create an unlimited number of contact, lead and account records containing the complete history of all interactions with them. The platform also enables you to add custom fields for storing any type of information your business needs. This data helps your business build lasting relationships with your current and potential customers.
Free Marketing Automation
Email templates, target lists, campaigns, tracking links, and mass mailing – all these are free features that allow your company to significantly automate and improve your marketing strategies. Without paying the additional cost, you're able to create personalized, targeted email campaigns that boost conversion rates. Moreover, you can also monitor their effectiveness by viewing the number of sent, opened, or bounced emails, who opted out, and who clicked the link in the email in the campaign logs.
Free Sales Pipeline Management
Handling deal management and customization of the sales pipeline according to the specific needs of your business are must-haves for any CRM software. EspoCRM provides the ability to manage every business opportunity effectively, customize the deal stages, and visualize them by enabling Kanban views on a free basis.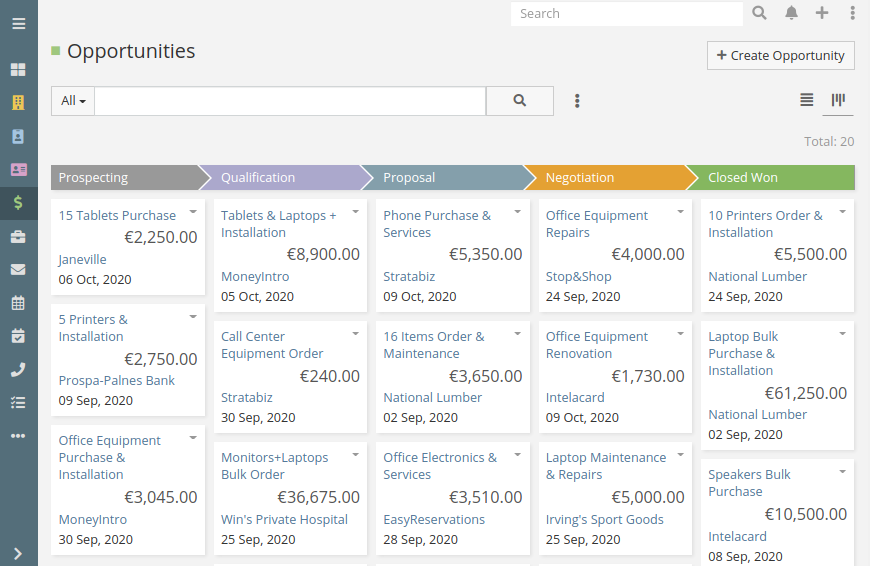 Free Case Management
The free case management tools help your support team keep track of issues, problems, or failures that are reported by customers. You can prioritize the issues according to their difficulty and urgency, create and use standardized responses for the frequent questions and problems. All of this helps a company provide timely responses to customers, improve customer service and organize the work of the customer support department more efficiently.
Free Customer Portals
EspoCRM software includes an effective, free feature for launching a self-service customer support portal. Portal users are granted limited access to the functions and information stored in the CRM system. In other words, portals provide your customers with the ability to report issues in a convenient way, and to find the solution for common and frequent problems using your knowledge base articles, which you can also create for free.
Free Security Roles
Keeping sensitive customer data secure is one of the central purposes of any CRM software. Security roles define what kind of information and how it is accessed by users and teams. The roles allow managing and controlling access levels both to the whole entities and to certain fields that belong to these entities.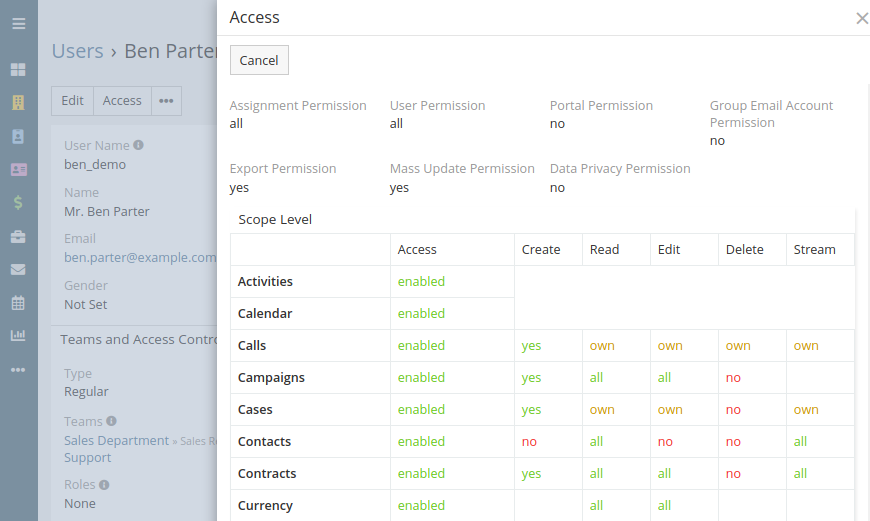 Free Data Import and Export
To keep your data up-to-date and synced across the various platforms you use for your business, you may occasionally need to import and export it. EspoCRM provides effective tools that make data transfer easy and quick. The platform allows checking for duplicates during the importing process, updating already existing records, reverting an import if it wasn't correct, exporting both records with all existing fields or with a number of specified fields.
Free Document Management
The freebie tools for document management provide you the ability to store, monitor, and process business documents. Your employees can group documents in different folders and sub-folders, send them in emails, create documents out of email attachments and display them in the related contact, lead, opportunity, etc. records. The platform allows accessing the needed paper on the go, at any time and place if there is an Internet connection.
Free Email Management
EspoCRM lets you integrate the mailbox with your instance to send, receive and reply to customers without leaving your CRM. You can monitor the history of your communication with each client, attach documents to the emails hassle-free, and be sure that your staff will not miss anything important.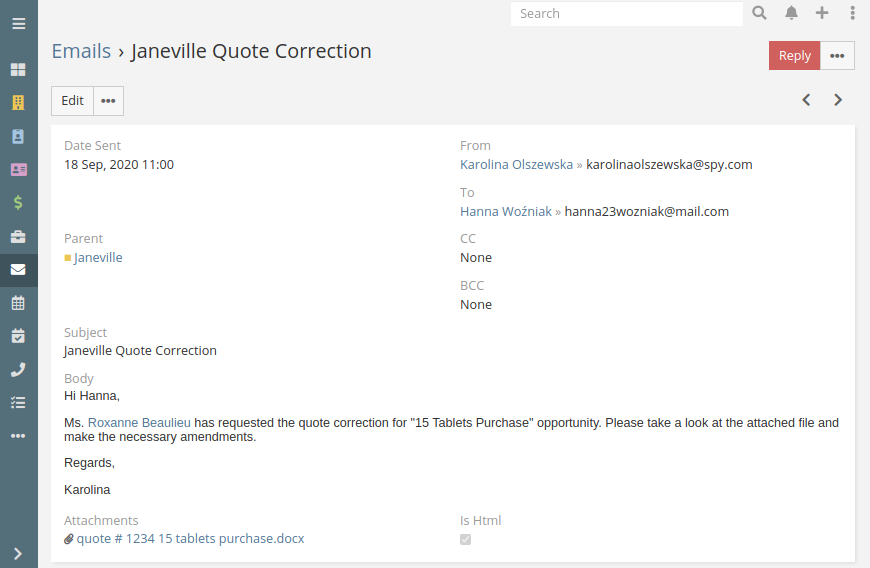 To sum it up, CRM software is a powerful set of tools that can boost the efficiency of your company and improve the management of all its departments. When choosing a free CRM solution, you're creating a win-win situation for your business. On the one hand, you have the opportunity to test and try out the features that the CRM offers and choose the one that can be best adjusted to your business needs, while, on the other hand, you're investing no money in it because it's free. And once your business outgrows the functionality of the free solution, you may upgrade it with reasonably-priced add-ons that will boost the performance of your business even more.
So, if today is not the best time to try EspoCRM's free version, then when?