The rise and constantly growing popularity of social media has invaded every aspect of our life. Today, it's almost impossible to find a person that has no social media account. Be it Facebook, Twitter, Instagram, Tiktok, or YouTube – one way or another we all end up being caught in the swirling currents of continuously generated content and online communication. However, in recent years, social media is no longer just merely a place for sharing photos, personal updates, and keeping in touch with friends. Nowadays, it is not only a powerful instrument for creating personal brands used by influencers and bloggers. It is also an effective tool for generating sales, increasing brand awareness, and promoting businesses.
More and more frequently, modern customers are expecting to receive customer service, communicate with their favorite brands, and make purchases on social media platforms. This situation, in turn, forces businesses to adopt new channels of communications and create social media presence proactively. At first sight, interacting with customers on social media may seem a small matter. But if it adds up to handling the continuous flow of emails, phone calls and messages, the company risks entering the era of data inconsistency and chaos very soon. This is where a CRM platform saves the day by unifying data from various channels and preventing the creation of information silos.
How can your business account on social media benefit from CRM?
CRM provides a full customer picture. The platform stores detailed information about your customers (their contact info, age, interests, etc.), history of interactions (calls, messages, emails), purchase history, and product/service preferences. Apart from that, it allows to log issues and complaints and share access to such complete and unified customer profiles across all the employees. All these data will significantly simplify the social selling process, foster team collaboration, and help to personalize the customer experience.
CRM streamlines content management. The built-in calendar lets your marketing team create advanced content plans. You can schedule post-events, add text and photos, and set reminders when the post should be published so that the CRM will notify you to publish on time.
CRM improves the social selling process. If you are acquainted with social selling, you know how daunting it may be – missed messages with orders, loss of customer data, errors in forming orders, and confusion with the prices and discounts. All these can be eliminated with the help of CRM. The system provides advanced functionality for tracking the progress of deals and inventory management so your employees will always be informed about the current prices and availability of products. Besides that, CRM keeps your teams informed about upcoming tasks, calls or meetings, which reduces the chance of ignored requests or missed clients.
CRM shows you the real numbers. CRM software allows you to turn data into deep insights into the performance of your business. The effectiveness of marketing campaigns, integrations with influencers, sales performance, the productivity of teams or separate employees, and other business metrics can be obtained only with a few clicks. You won't need to play a guessing game to see whether a marketing campaign or sales strategy works for your business. The platform provides you with instant statistics and helps to identify and fix pain points in the early stages.
How to use EspoCRM with your social media account?
Although EspoCRM is not a ready-made social CRM solution, it still can become a powerful ally for your social media account if configured properly. In this part of the article, we'd like to share some practical tips on how to befriend EspoCRM and your business account on social media.
Сustomize customer entities to get detailed customer profiles
EspoCRM incorporates three types of customer entities – accounts (the companies you work with), leads (potential customers), and contacts (current customers). These entities store all the information about your customers in the corresponding fields like address, phone number, name, etc. However, some of the fields that are available by default may be unnecessary for your business, while the needed ones may be missing. EspoCRM allows you to add, edit, remove and rearrange fields, entities, and their relationships with the help of Entity Manager and Layout Manager.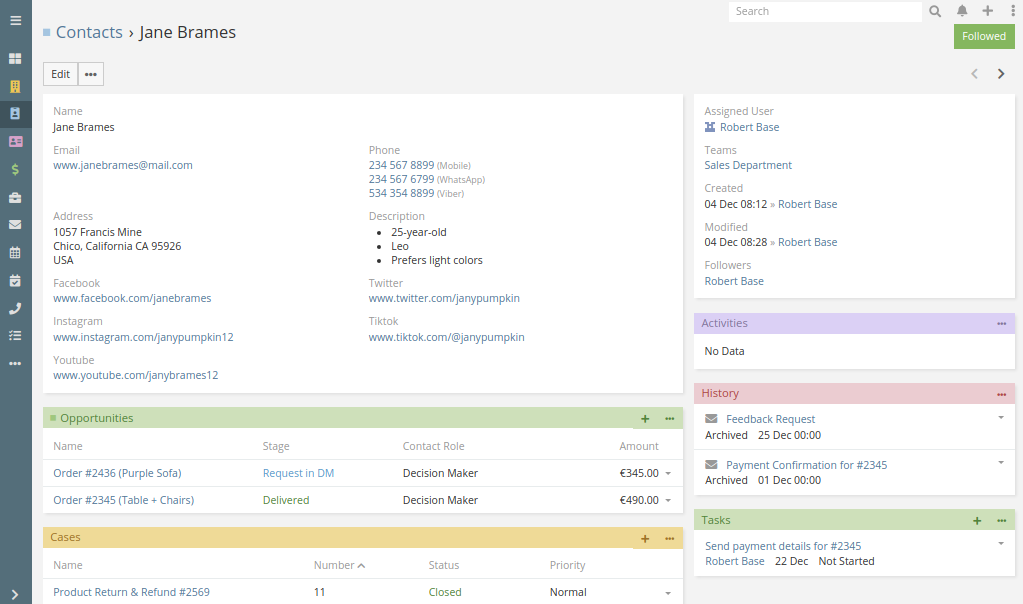 You can find the detailed video instructions on how to use them via the links:
https://www.espocrm.com/video/entity-manager/
https://www.espocrm.com/video/layout-manager/
Adapt the sales pipeline to match the steps of your sales cycle
Sales processes differ from industry to industry and even from company to company. Your sales process also has its unique stages and milestones that reflect the buyer's journey of your audience. To streamline sales management, it's important to personalize the sales pipeline in your CRM to make it suit your sales cycle. In EspoCRM, you can do it by editing options at Administration > Entity Manager > Opportunity > Fields > Stage > Options.
Note that you can enable Kanban view for Opportunities (Administration > Entity Manager > Opportunity > Edit > check Kanban View checkbox) in order to visualize the stages of your deals.

Create a catalog of products or services you offer
One of the most annoying and time-consuming things about social media selling is the continuous need to check the availability and prices for the goods or services. You can resolve this issue by adding your products to EspoCRM. The system allows to divide products into categories, stores the detailed information about them (weight, size, description, photos, prices, etc.), automatically calculates discounts, and displays product availability. For more detailed information on the Products configuration, please check out the links:
https://www.espocrm.com/features/products/
https://docs.espocrm.com/user-guide/products/
Utilize calendar for content management
Aside from serving as a perfect time management tool, EspoCRM's calendar can improve your content planning and post publishing. You can create a post entity of event type and add it to the calendar at Administration > Settings > Activities. Then, create the attachment multiple field for the post entity to store photos/videos and set up a shared calendar for your content team to plan and edit the publications together. The calendar also enables you to set in-app, pop-up or email reminders about the upcoming events, so you will not forget to publish content on the social platform.

To find more information about the calendar feature, check out:
https://www.espocrm.com/video/calendar-and-activities/
https://www.espocrm.com/tips/calendar/
Customize your dashboard
Along with dashlets, a dashboard is a powerful tool that provides an instant, real-time, accurate view of things that are taking place in the company. The dashboard is located on the homepage, it contains a certain number of dashlets that enable quick access to the most frequently used features. The feature can be configured either in Preferences or directly on the homepage. By default, the dashboard contains Stream and My Activities dashlets, but you may add as many other dashlets as you want (e.g. Calendar, Opportunities, Reports that will display actual statistics, etc.). Moreover, you may also subdivide your dashboard into several tabs that will correspond to different aspects of your work.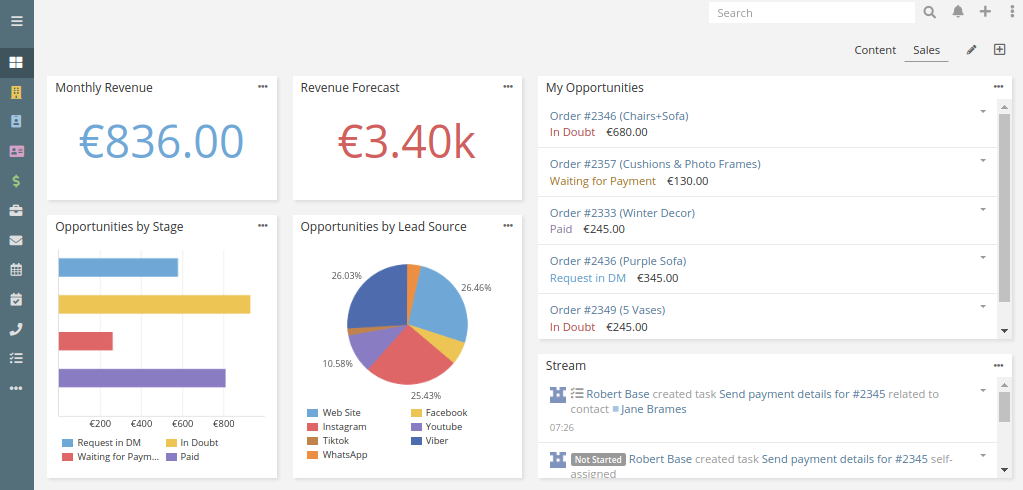 For more detailed information on dashboard configuration, please check out the following links:
https://www.espocrm.com/video/dashboard-and-dashlets/
https://docs.espocrm.com/administration/dashboards/
https://www.espocrm.com/tips/dashlet-configuration/
Let's face it: people spend a tremendous amount of time scrolling social media. Being able to build relationships with customers on social media platforms lets you increase customer loyalty, improve brand awareness, and stay ahead of your competitors. Social media will allow your business to become more open to conversation with your target audience, while CRM software will turn this into effective and rewarding communication.