Your customers are the heart of your business regardless of the industry your company belongs to. When they choose your company among the other options, they entrust you with their personal data and expect that you will handle it responsibly. Consequently, every company that is protective of its business image will take all the necessary measures to secure customer information.
Since most of the customer data is stored in the CRM, it's of utmost importance to control who can access the information within the system. EspoCRM allows restricting access to certain entities with the help of Security Roles. While controlling access to the entire entity (in the scope level) is widely applied, the ability to limit access to certain fields (in the field level) of the entity is often overlooked. In this article, we'll find out when and how to apply Field Level Security.
When to apply field level security?
In certain instances, users need to have access to the records of the entity, but there are some fields that you would like to limit their access to. Field Level Security allows you to control whether users can view or edit certain sensitive fields of the entity. It provides the ability not only to secure certain data but also to improve the efficiency of your teams as they have access only to the relevant information that allows them to focus on generating better results. It is also quite beneficial for your team managers as they can coordinate the work of the team more thoroughly and effectively.
How to apply field level security?
In order to define Field Level Security, navigate to the edit view of the needed Role record and find the Field Level section. Then, find the desired entity and click the plus icon next to it to select the field access to which has to be limited. Then, you can determine the access level for reading (viewing the field value) and editing (making changes to the field value). If you want to enable access, then choose the yes option. And on the contrary, if you want to restrict the ability to perform reading and editing actions, select the no option.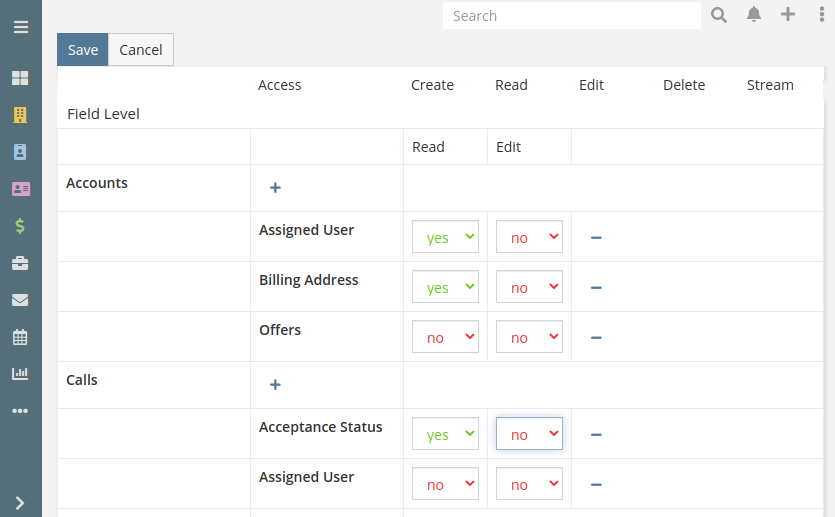 Data security risks are real things that can happen to your business when you're least expecting them. The damage done by even the tiniest data leaks can take years to rehabilitate your brand in the eyes of your customers and business partners. Thus, applying security measures not only on the entity level but also at the field level is the thing that allows you to protect your CRM data and meet customer expectations.
Interested in making your business more efficient? Let's do it together with EspoCRM!