Throughout its history, humankind has invented hundreds of ways to communicate with each other – from using a pigeon post to sending messages via the Internet. Even though modern time offers a wide range of communication channels, most entrepreneurs, sales and marketing professionals still commonly use email for business communication. There are many reasons for the email to be the primary tool for business information exchange and promotion. Such communication is fast, cheap, accessible, complete, and easily retrievable when needed. At the same time, it provides companies with effective ways of transmitting all kinds of electronic data, which makes the interchange of documents, spreadsheets, etc. swift and smooth.
Thus, understanding the importance of proper email communication for the growth of a company, business people try to do their best to make their email communication sound as professional as possible. One of the most important components that are often overlooked but play a major role in creating a good first impression of your business is, of course, an email signature. Like a perfectly styled and polished business card handed to a potential client in the real world, an email signature creates a virtual identification of you and your company during online communication. In this article, we'll take a closer look at the reasons why email signatures are important.
Why is an email signature important?
Email signatures show the professionalism of your employees and the company in general.
By creating a distinctive signature at the end of your emails, you're stating who you are as a company. Well-thought-out signatures that include detailed contact information about the sender make your business look professional in the eyes of your recipients. Moreover, an appealing signature serves as a smooth closing of your letter and catches the attention of the readers provoking them to inquire about your company, visit your website, or social media profiles.
Email signatures make your brand recognizable.
Email signatures play a crucial role in your branding marketing campaigns. Containing your company name, logo, colors and links to websites, the signatures solidify the image of your brand in the customer's mind. By making your brand more recognizable, they help to improve your marketing strategies and inspire more loyalty and brand affinity. The flawless email signatures eliminate the risks of falling into the whirlpool of obscurity transforming your company from a "just another business" level to the household name instantly associated with the goods or services it offers.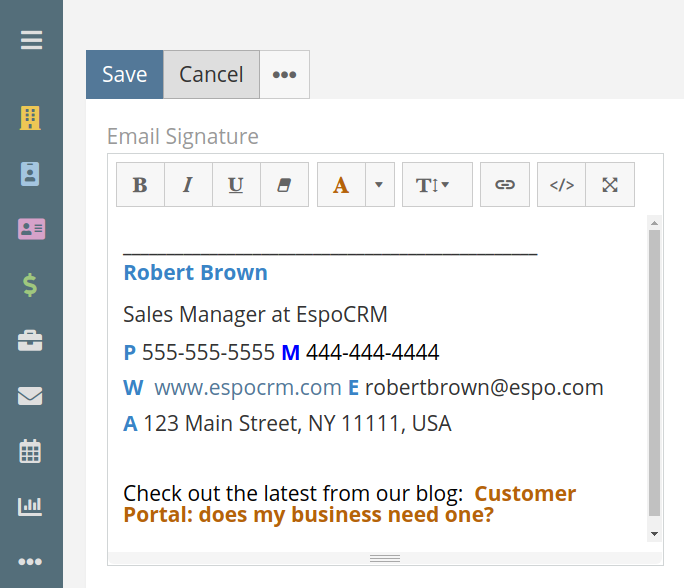 Email signatures provide contact information for the receiver.
The last thing you want to achieve with your business email is customer confusion after reading it. Email signatures prevent such a situation from occurring. Usually, they embrace either the contact details of the company's department or the employee, so when the questions arise, the recipient knows where to ask them and get the answers. In fact, they evoke the feeling that everything is controlled, properly organized and the quality of service in your company is high.
Apart from being advantageous for your brand and convenient for your customers, the well-established, uniform email signatures are also extremely useful for your employees. They save a lot of time spent on manually creating them for each email and create a distinctive style that incites professionalism and trustworthiness.
If you're actively using email for your business communication, it's a perfect moment to create email signatures for your employees. With EspoCRM, you're only a few clicks away from setting and styling default signatures that integrate your brand identity and propel your brand forward.
Interested in making your business more efficient? Let's do it together with EspoCRM!