As a business owner, you will probably agree that present-day customers are accustomed to interacting with their favorite brands in any convenient way – be it phone, email, social media direct messages, etc. With all these channels remaining separate and being used simultaneously, your employees are quite likely to spend half of their workday by jumping from tab to tab, and from app to app. This situation makes it practically impossible to keep the data synced and be productive. As the number of your customers continues to grow daily, the obvious need to integrate communication channels with CRM also increases.
Connecting your phone system with CRM software is an optimal decision that brings your company a competitive advantage over using separate platforms. In this article, we'll explore the benefits of integrating phone systems (on the example of Twilio) into EspoCRM.
Simplified call data management
In business, data is the backbone of success. Every interaction with your current or potential customers gives your company powerful insights. The Twilio integration with EspoCRM makes sure that your employees won't miss anything important during the call. The CRM system stores the history of all inbound and outbound calls, call recordings, phone numbers and other details about your clients. No more calls from unknown numbers or forgotten details of previous interactions, the CRM platform will automatically redirect you to the holistic customer profile as soon as you pick up the phone and say "hello".
Increased employee productivity
By making your Twilio and CRM platforms friends, your employees enjoy the advantage of making and answering calls directly from your CRM instance. Features like click-to-call, screen pop-ups for inbound and outbound calls, call reminders and the ability to add notes while the call is in progress are actually decreasing the amount of time spent on overall call handling and finding the solution to a problem. Eventually, this all leads to better customer service, an increased number of held calls per day, and consequently more sales.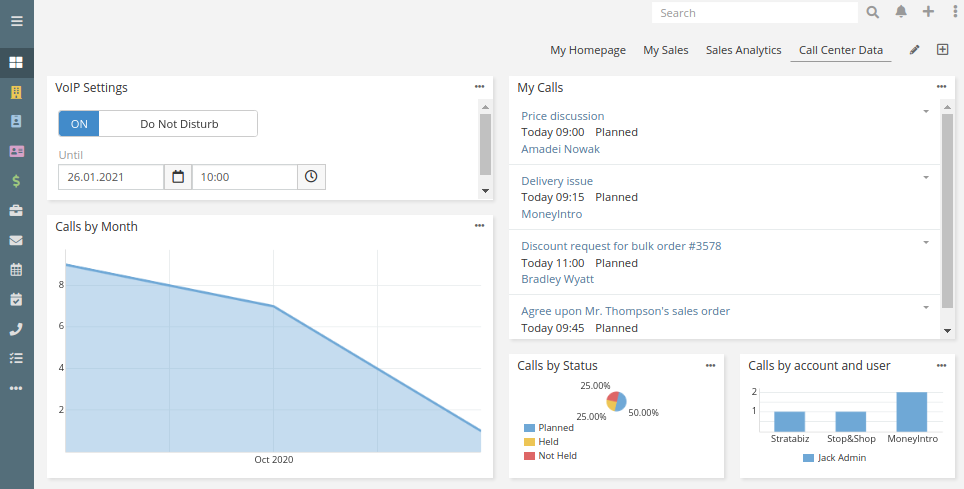 Powerful call analytics
Apart from the ability to make swift phone calls from anywhere, CRM integration with Twilio provides your marketing and sales teams with additional analytical data that reflects the effectiveness of your employees. Such insights as the call volume per week, the likelihood of dialing through, inbound vs outbound call statistics, and average call handle time allow your company to improve the pain points of your call centers, determine the sales strategies that work better than the others, and find out more about your target customers. Having all these data at hand, your marketing department can predict the future of their marketing campaigns and create more personalized offers.
Modern everyday routine is flooded with a vast array of communication channels. Multichannel communication has blurred the lines between the communication means used for personal and business purposes. Although phones may not be the primary assets transferring information today, there is still a considerable number of customers that prefer them over other means of communication. By bringing your Twilio phone system functionality into EspoCRM, you gain a chance to enhance your customer service, increase the performance of your company and improve the productivity of your staff.
Interested in making your business more efficient? Let's do it together with EspoCRM!