Customization and Configuration
Each business is unique, yet each can benefit from using EspoCRM, and its full customization options. Configure and customize your CRM system to meet the specific needs and requirements of your company. Change layouts for the views, create custom entities, fields or relationships, customize message templates and application labels with EspoCRM's Layout Manager, Entity Manager, Label Manager, and Template Manager.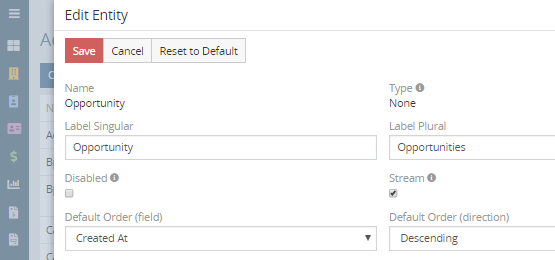 Advanced Sales Automation
EspoCRM allows companies to substantially automate their business processes and operations. With the help of our innovative BPM and Workflow toolsets it takes only a few clicks to design and execute a sales process. Specify the actions (changing field values, creating entities etc.) and the desired follow-ups (sending emails or notifications, setting tasks etc.) and reduce the amount of time and efforts spent on routine operations.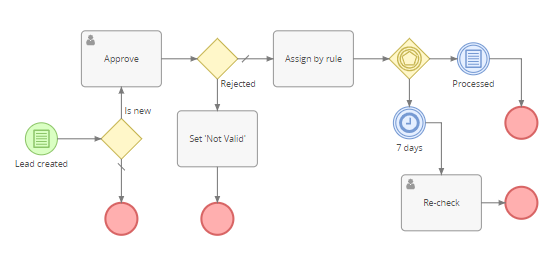 Data Security
Alleviate security concerns and protect your customers' data with CRM's security features. Set the security roles for sales and support managers as well as for their teams, configure the access rights to scope and field level permissions and ensure that each customer gains access only to the relevant information connected to their position in the company.

Reports and Analytics
Monitor your sales and marketing performance with CRM's reports and analytics. Our powerful report tools will turn your data into careful insights featuring a great variety of metrics (team performance, opportunities by stage or by lead source, etc.) so that you will be able to track your sales progress at different stages. Making accurate forecasts, predicting future sales and measuring sales effectiveness has never been easier.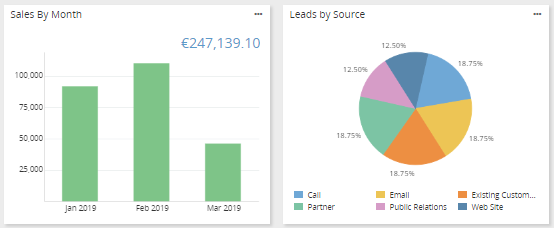 Dashboard and Dashlets
EspoCRM's easy-to-use dashboard with dashlets provides an instant access to the frequently used features and data related to sales activities. Divide your dashboard into various sections, arrange dashlets into desired order, and enjoy having quick access to the needed features at your fingertips.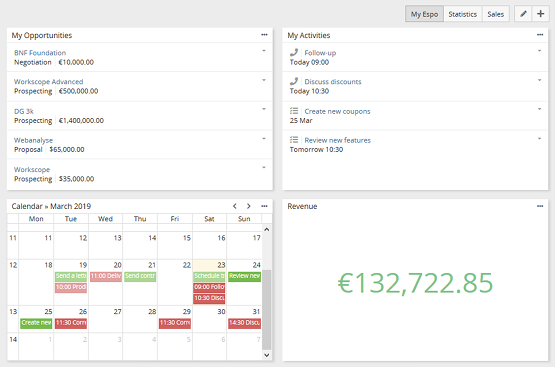 Calendar Management
With a properly configured EspoCRM's calendar, staying productive throughout the workday is no longer a problem. This feature makes it easy to organize appointments, schedule calls and meetings, set tasks and track availability and progress of team members. Moreover, our CRM system provides the ability to sync your Espo and Google calendars allowing you to monitor the events within the software you've chosen.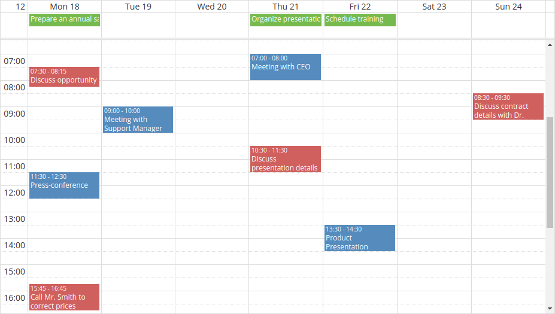 Email Management
CRM allows companies to organize and track customer emails within one system. Create personal and group email accounts, set email signature, configure email filters and personalize email templates with our email functionality. You can keep in touch with your customers no matter what email client you use because all the email communication will be synced with your CRM instance and related to the right entity within the system.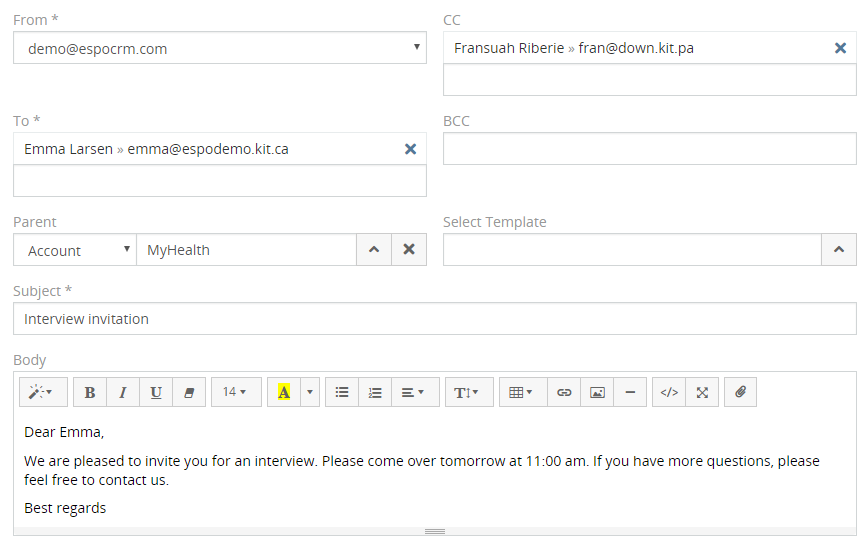 Activity Stream
Stay tuned and keep up with changes with Stream functionality. Available on the homepage and on the record level, the Activity Stream allows users to see the list of activities performed on the records, create personalized posts, comment on the updates, and a lot more. Users can monitor the most recent changes and always stay informed about on-going events across the entire company without spending much time and effort.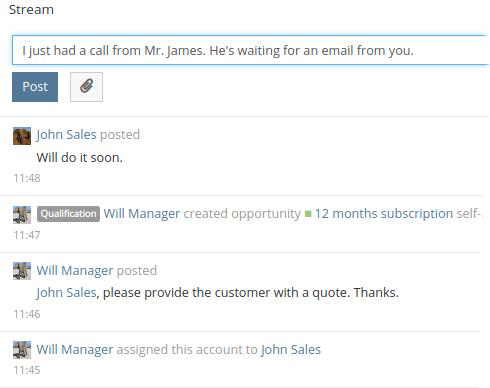 Customer Support
EspoCRM offers powerful support capabilities that allow your support team to streamline case management and ensure the highest possible level of customer service to your clients. With properly configured Case and Portal features your company will be able to reduce of both the overall case load and the time spent on finding resolutions. What's more, the Portal feature will allow your customers to create cases, follow updates related to them, and search the knowledge base for more information on the topic in question.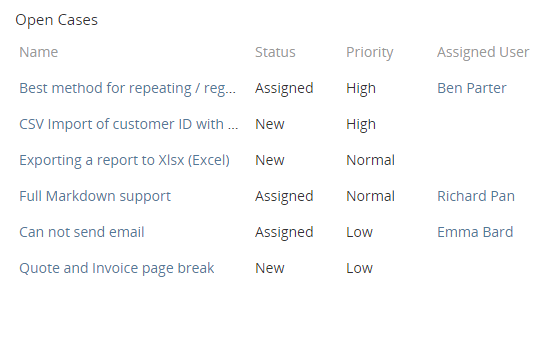 Marketing Automation
CRM software and email marketing are the two things that supplement each other, keeping both marketing campaigns and database professionally organized and consistent. Customizing email templates, creating proper target lists and automating email sending is much easier with EspoCRM's Campaigns functionality.