Ensure that your business enjoys all the advantages of our CRM platform
What is our approach?
We provide a complete scope of CRM implementation and consulting services to improve your sales, marketing and customer support initiatives with our CRM solution. Working with the belief that every business is a unique adventure, our consultancy is primarily aimed at optimizing your current business processes and minimizing challenges in your CRM implementation journey.
Whether you introduce a CRM system to your company for the first time or want to move to our platform from your current one, we can help you create an efficient CRM implementation plan that will ensure smooth system adoption and increased business performance.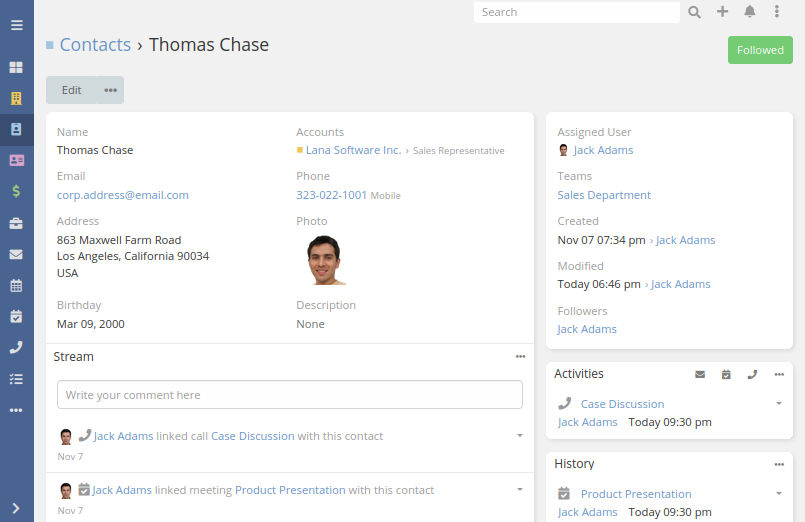 What services do we offer?
In-Person / Online CRM Strategizing
We offer in-person and online scoping sessions to analyze your business requirements, spot gaps and inconsistencies in your current business processes, and suggest how our platform can solve your challenges.
CRM Software Implementation & Configuration
We can assist in setting EspoCRM up and running. Our CRM consultants can install the platform and perform the required configurations to adjust our product to your unique business needs.
CRM Integration Services
Apart from implementation services, we can also integrate your CRM instance with a range of other business platforms, including MailChimp, Google Contacts & Calendars, Outlook Contacts & Calendars, and a number of VoIP providers. It will allow you to keep your business information synced and streamline employee productivity.
Cloud Hosting & Maintenance
We provide a cloud-hosted version of EspoCRM. Essentially, it means that we take responsibility for the maintenance, upgrading, and security of your cloud-hosted instance.
Business Process Automation Consulting
We can help you to reduce inefficiencies and automate daily routine activities. Our advanced workflow and BPM functionality can be used to automate simple tasks and complex sequences of operations that steal a lot of your employee's time.
Accelerate your business growth with EspoCRM today!
If you have a question or need proficient consulting on EspoCRM implementation, data migration, or system configuration, don't hesitate to contact us.
CRM Software for Businesses in Los Angeles
Providing the best possible customer experience is one of the key components of running a successful business. It guarantees not only higher profits but also allows businesses to achieve their goals faster than their competitors in the industry. This is true for all US businesses, and the companies based in Los Angeles are no exception.
Yet, delivering a better customer experience is not an easy task without CRM technology. By accumulating tons of customer data, this software provides the ability to better understand your customers, automate complex business operations and stay focused on building loyal relationships with clients.
If you are looking for a solution that will help you in creating stronger connections with your clientele, EspoCRM may be the perfect fit. Our system will help you to organize business data, personalize customer interactions and improve sales and marketing strategies. This will, in turn, allow you to scale your business in Los Angeles to reach newer heights.