Today, it's nearly impossible to imagine a business operating without IT technology. Being tech-savvy is no longer a luxury a company owner may choose to ignore: it has become one of the factors that can make or break a business.
However, when it comes to implanting IT infrastructure, efficiency and customization are of the essence. The savvy business owner needs to take into account the specific needs and unique circumstances of their company to find software that not only meet and exceeds the present demands but also promotes future growth in a sustainable way. Often, it's a matter of compromise: highly functional software can be expensive but more affordable options don't offer the same level of customization.
Fortunately, as technology evolves, so does the array of options. Customer Relationship Management System offers the best of both world – high functionality that won't break the bank. CRM software is created to improve the internal structure of every company and streamline its operations, leading to higher efficiency and revenues. Information about a business' core objectives can be stored in a single place which can be accessed with as much as a single click. Forget about having to sort through gigabytes of information – everything you need is stored at the tips of your fingers. Moreover, the CRM system also allows you to analyze information and sort data by particular criterion. Imagine you would like to reference all clients who you've signed a contract with during a particular period; all you need to know is enter the necessary parameters into the system. What's more, the CRM software is also able to create schedules and sales reports to keep track of how your company is doing and make the necessary amendments. This provides you with another level of control over your business and enables you to adopt a proactive approach to ensure your current objectives are met at all times.
The primary function of every CRM system is systemization of customer data. The key to running a successful business is knowing who you're dealing with and this includes not only partners and contractors but clients as well. A well-designed CRM system enables you to store all information about people you've signed contracts with in a single database which simplifies the whole process. Apart from giving you even more control over your venture, this allows you to analyze your business activity as it develops, keeping track of current objectives and capture wide intervals of time, spot and correct mistakes as they occur and ensure your business is on the way to success.
The second main function of the CRM system is accounting for employees' data and work results. The CRM software allows you to create an individual profile for every team member and adjust it according to the specifics of their work. This means you can keep track of any outstanding tasks in their profile and mark them as completed as soon as they have been carried out. Additionally, the CRM system stores information about meetings, planned calls and other operations which streamlines the communication within your venture and simplifies the coordination of tasks within each team. All of this information can be shared with the company's executive. The end results are increased flexibility and efficiency at every level of your organization.
CRM Usage Statistics Q1 2017/Q2 2017
| | |
| --- | --- |
| India | 10,18 % |
| United States | 9,07 % |
| Germany | 6,94 % |
| Russia | 6,14 % |
| Brazil | 3,77 % |
| United Kingdom | 3,51 % |
| Ukraine | 3,51 % |
| France | 3,34 % |
| Italy | 2,86 % |
| Spain | 2,74 % |
| Other countries | 47,94 % |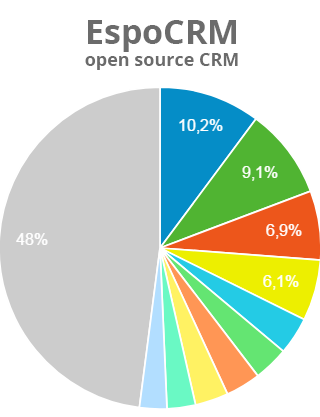 Developers from India prefer open-source to create a product based on other systems, that is not news. Sales managers in United States and Germany use CRM more than in other countries.