EspoCRM offers a broad scope of possibilities. It helps your salespeople to manage leads, prospects and customers' data. However, once your small business starts to grow, you'll need additional business applications to interact with your growing audience. Platforms for email marketing, accountancy, e-commerce, VoIP, etc. are some of the typical components of the SaaS Stack of a growing business.
While your EspoCRM gathers a big part of your contact data, these other applications also have important customer information. Should the data of these apps be available on your CRM? The answer is a big YES.
Additionally, some of these applications could benefit from the data collected inside EspoCRM. So, shouldn't that data also be in sync with your other business tools? Big YES, again.
PieSync is here to keep all your data in sync between the different applications you are using 2-way and in real-time. That means that whenever there's an update on the contact data stored in one of your tools, you'll see that change available in the connected one, and vice versa.
You can easily send customer data from EspoCRM to the invoicing app, or marketing qualified leads from your marketing automation app into EspoCRM. Using if-this-then-that filters, you can decide the way your data flows between application, so you can sync only certain subsets of contacts and maintain your segmentation or the attributes of the data.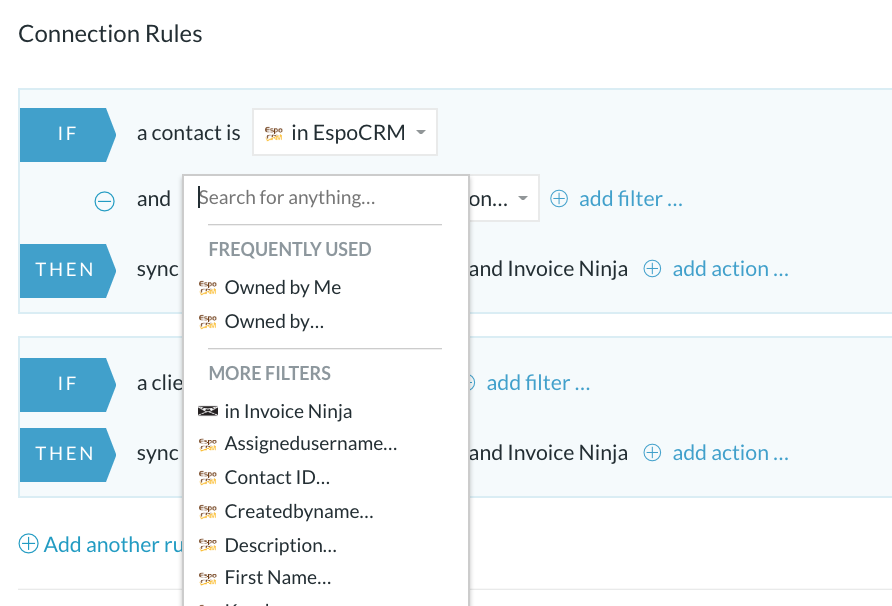 Save time and ensure the quality of your data
To solve isolated data problems, a lot of businesses run a weekly import/export, or they try and rig up ad-hoc data "zaps" that never truly keep your customer data up-to-date. These methods are likely to decrease the quality of your data and take a lot of time.
PieSync is the glue that holds your apps together, creating a transparent tunnel through which your customer data flows. During the first sync, PieSync will give you the option to merge duplicate contacts, taking into consideration your historical data. Later on, the intelligent syncing engine is constantly scanning both connected apps to enrich the information in the different databases.